Shanghai stampede kills 35 during New Year's Eve celebrations
Comments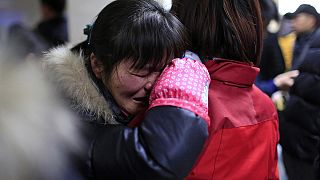 An investigation has been launched into what sparked a stampede during New Year's Eve celebrations in Shanghai killing at least 35 people.
Over 40 others, mainly students were also injured.
Photos showed rescue workers trying to resuscitate victims lying on the ground.
The trigger of the tragedy still has to be confirmed but witnesses said the incident was at least partly caused when people tried picking up fake money thrown from a building.
Dozens of distraught relatives gathered at a hospital waiting for news of their loved ones, with some expressing frustration at the lack of information as police held them back.
An injured man described what had happened to him:
"People standing above us pushed us down, we couldn't get up ( on to the platform overlooking the river). A line of people who had stood above us fell onto us, so we were pushed down."
The authorities had shown concern about crowd control in the run up to the celebrations, with at least one event having been cancelled.
However, on the night around 300,000 people turned out for the fireworks and musical shows across the city.