Netanyahu urges war crimes court to reject Palestinian membership bid
Comments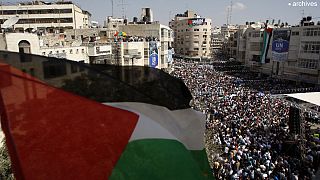 Israel has urged the International Criminal Court to reject the Palestinian Authority's bid for membership.
The Palestinian Authority is not a state. It is an entity that is allied with a terror organisation, Hamas.
The move paves the way for the court to take jurisdiction over crimes committed in Palestinian lands and investigate the conduct of Israeli and Palestinian leaders over more than a decade of bloody conflict.
But, holding an emergency consultation with senior ministers, Israeli Prime Minister Benjamin Netanyahu made his anger clear.
"We expect the International Criminal Court to summarily dismiss the Palestinian Authority's duplicitous application because the Palestinian Authority is not a state. It is an entity that is allied with a terror organisation, Hamas, which commits war crimes and the state of Israel is a law-abiding state with a moral army that keeps all international laws," he said.
"We will defend Israeli soldiers in the same way that they protect us."
The Palestinians though are pressing ahead with their bid to join the war crimes court, seeking to internationalise the Middle East conflict.
Submitting the application, senior Palestinian negotiator Saeb Erekat said: "Palestine commits itself to the international law, to all the obligations emanating from the conventions and treaties we have signed. We will also submit the letters of accession to other relevant parties, especially concerning the non-proliferation treaty and to the registry of the ICC."
On Wednesday, Palestinian President Mahmoud Abbas signed on to 20 international agreements, including the Rome Statute of the International Criminal Court (ICC). It follows other steps to seek the trappings of statehood without waiting for the outcome of negotiations with Israel.
In 2012, the Palestinians won "non-member observer state" status in the UN General Assembly. In the past year, Sweden recognised the Palestinian state, while the British, Irish and French parliaments held non-binding votes calling on their governments to do the same.
There have however also been diplomatic setbacks for the Palestinians. The UN Security Council has just rejected a resolution calling for an end to Israeli occupation by 2017.