Brazil's Rousseff starts new term under cloud of corruption
Comments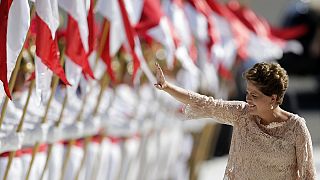 Brazil's President Dilma Rousseff has been sworn-in for her second term in office.
Thousands attended the inauguration ceremony in the capital Brasilia. The atmosphere was festive but a stagnant economy, messy public finances and a large corruption scandal threatens to overshadow her next four years in office.
Since Rousseff took over from her mentor Luiz Inacio Lula da Silva four years ago, the budget deficit has more than doubled to 5.8 percent of gross domestic product and economic growth has come to a standstill from 7.5 percent growth in 2010.
On top of that, Brazil's largest company, oil firm Petrobas is accused of paying kickbacks to politicians as bribes and campaign contributions.
Rousseff, who chaired the company during a period when much of the alleged corruption took place, has denied any wrongdoing.