Brazil's Rousseff faces crisis of credibility in second term
Comments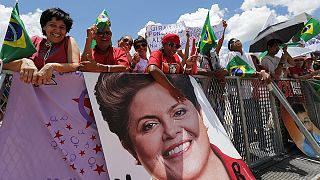 It was an inauguration under tightened security after a close re-election.
The climate is tense as President Dilma Rousseff launches into her second term in office.
The former guerrilla, aged 67, successor to Lula Da Silva, came to power four years ago largely on the basis of Workers' Party advances in the previous 12 years.
She almost didn't get re-elected because of the slumping economy and a major corruption scandal.
Economist Gilberto Braga said she will not have a free rein: "The message from the polls is that the government must keep its social programmes in place, pulling people out of poverty and improving living standards, but at the same time there must be a focus on how to generate resources for these programmes, create conditions which will stimulate investment, control inflation and look after public money."
Unemployment has dropped consistently since 2010, reaching a historic low of 4.5 percent in 2014.
However, inflation began to climb two years ago. Last August, consumer prices rose by 6.5 percent, directly affecting the purchasing power of middle income earners.
The weakest of anything in Rousseff's balance sheet has been growth. The economy contracted in 2014, and this year is only expected to post growth of half a percent.
Fiscal adjustments, officials have said, will rely on spending and subsidy cuts rather than new taxes, but the Bolsa Familia monthly cash help for poor families and a federal housing programme will be exempt.
Rousseff's predecessor set welfare plans in motion which somewhat raised some 40 million Brazilians out of poverty, and many fear losing such programmes.
She must also clean up after the worst corruption scandal in the history of state-controlled oil producer Petrobras.
Prosecutors say its executives conspired for years to inflate the price of refineries, ships, advertising and other goods and services, back-handing a percentage to themselves and members of Rousseff's ruling coalition.
She plans to punish without hurting Petrobras, which is Brazil's biggest company.
Fighting a crisis of credibility while adopting a significantly more austere and business-friendly agenda in the world's once booming seventh-biggest economy, Rousseff hopes to restore the confidence of Brazilians and foreign investors.