Libya calls for help to fight oil terminal fires caused by rocket attack
Comments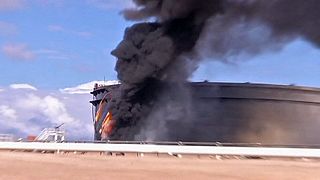 Libya is calling for overseas help to fight fires burning at one of the country's main oil export terminals.
A rocket attack by militants on Christmas day set several storage tanks ablaze in the port of As Sider.
US firefighting specialists have been called in to assist.
Rival factions allied to the country's two competing governments are fighting for control of Libya's main resources.
Nineteen people are also reported to have died in clashes in the nearby town of Sirte.
Fighting has massively reduced the country's oil output, which is desperately needed to keep the struggling economy afloat.