Last group of French soldiers leaves Afghanistan
Comments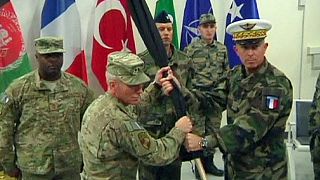 The final group of French troops in Afghanistan have marked the end of their mission with a transition ceremony after NATO combat operations ended.
Hundreds of French soldiers had been helping to run the military airport in Kabul.
That responsibility will now lie with a Turkish unit that's part of a new NATO-led advisory mission.
Incoming Turkish Commander Major General Mehmet Cahit Bakir vowed to remain "very involved in the successful handover of the airport," adding that he would provide the highest quality capabilities to achieve this goal.
More than 12,000 foreign troops will stay in Afghanistan as part of NATO's follow-on "Resolute Support" mission.
The mostly American troops will continue training Afghans to fight the Taliban. Fourteen partner nations will also contribute to the NATO mission.