Hundreds of migrants attempt to scale border fence into Spanish enclave of Melilla
Comments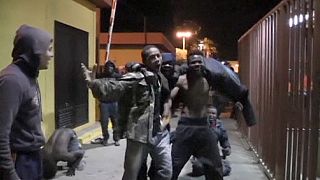 More than 50 migrants managed to scale the Moroccan border fence into the Spanish enclave of Melilla early on Wednesday morning.
They were amongst around 800 who had tried to make a rush at the triple barrier that divides Africa and Europe.
They attempted in small groups, many well prepared with spikes inserted into their shoes to help them climb up.
It was the second mass attempt this week; on Tuesday around 100 people managed to get across the border fence.
Two Guardia Civil police officers were injured after being attacked with various objects as they tried to prevent people from crossing.
The number of immigrants entering Melilla in 2014 has reached a record high of 5,000 people.