Bush Sr. leaves hospital after breathing difficulties
Comments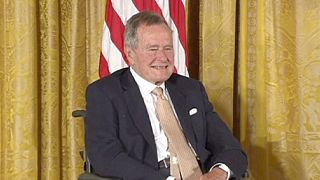 Former US President George Bush Sr has left hospital in Houston after a week-long stay brought on by breathing difficulties.
Bush, who is aged 90, is said to be resting at home.
Two years ago he was treated in the same hospital for more than two months for bronchitis.
Bush was president from 1989 to 1993, and is head of a famous political dynasty.
His son George W. Bush served as president from 2001 to 2009.