Formula 1 driver Bianchi 'unconscious but breathing unaided'
Comments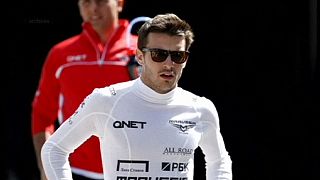 Marussia driver Jules Bianchi remains unconscious but is breathing unaided and has reportedly begun a programme of rehabilitation therapy in France.
The 25-year-old, who suffered a severe head injury after hitting a recovery truck at Suzuka on October 5, was transferred to a hospital in Nice last month.
The incident took place on lap 43 of an action-packed race which was under a red flag after Adrian Sutil crashed at turn eight
An international Automobile Federation report said this month that Bianchi did not slow down sufficiently under warning flags before crashing and that medical services were not at fault in their handling of the aftermath.