Barcelona transfer ban appeal rejected
Comments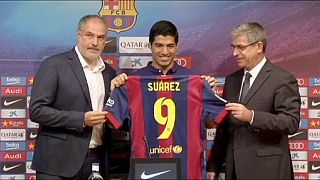 Spanish giants Barcelona will be unable to make any signings in 2015 after their appeal against a two-window transfer ban was rejected by the Court of Arbitration for Sport on Tuesday.
The signings of Luis Suarez, Thomas Vermaelen, Claudio Bravo and Marc-Andre ter Stegen were all made after the ban was suspended while the Catalans made their appeal.
FIFA announced the ban in April after an investigation into several players aged under 18 who were registered and played for Barcelona between 2009 and 2013. Football's world governing body found that the club and the Spanish federation were guilty of a "serious" infringement of rules for 10 players.
The transfer ban will officially kick in on January 1, meaning there will be no winter transfer window signings at the Camp Nou. In addition to the sanction, Barcelona will also have to pay a fine, said to be around €375,000.