New Yorkers say good riddance to bad memories of 2014
Comments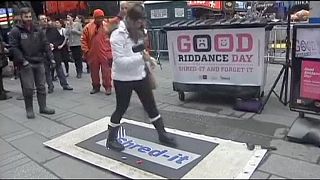 Based on a Latin American tradition, a special day has been created where people can eliminate negativity from their lives.
Good Riddance Day gave New Yorkers the chance to write down whatever it was they'd like to eject from their lives and then put in the bin.
In Times Square on Sunday, queues of people wanted to 'shred it and forget it'.
Organisers Tim Tompkins insisted the event wasn't an excuse for more seasonal revelry.
"It's not really just that it's a party. It's a way of saying enough of the past and start again, start fresh," he said.
One New York couple said good riddance to stress and arguing while another woman crushed her inhaler with a hammer, presumably hoping that her Asthma would disappear forever.
The idea for Good Riddance Day came from South America, where New Year's revelers stuff dolls with objects representing bad memories before setting them on fire.
Organisers arranged for a live shredding of all the notes of 'good riddance' by a New York refuse truck.