From zeros to heroes, Rogen and Franco's "The Interview" rakes in the cash for Sony
Comments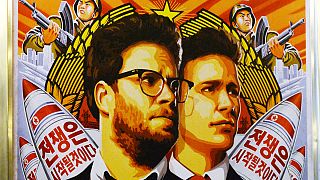 Before the year's most talked-about movie "The Interview" came out, the critics had given it a mixed reception. Then came the Sony hack threats against any cinema that showed it, and its withdrawal. It looked likely it would lose Sony its 80 million dollar production and marketing budget.
However since Sony backtracked and released it as video on demand on the web on Christmas Eve it has taken 15 million on the internet alone, and the 300 cinemas of its restricted release have been sold out. A wider release, perhaps to ten times that number of screens, is surely on the cards.
The film has gone from being a potential black hole in the entertainment giant's budget to box-office gold.
"It's a farce of the highest level. I would equate it to something like 'Airplane!' or 'Hot Shots!', you know?"
"Overall, big dumb fun"
"Super funny, super funny"
"Yeah, I thought it was a great movie, it was really funny," were just four reactions from a host of happy punters leaving one US cinema.
Rarely has a film benefited from such an amount of free publicity, and like Chaplin's "Great Dictator" years before, not even condemnation from a national government has been able to stop "The Interview", which unlike Chaplin's masterpiece has not suffered from appeasement or much criticism of its politics, unless it is from within North Korea.
Indeed, while Kim jong un is a movie fan and is likely to have seen it, he has kept his silence. President Barack Obama chose to make freedom of speech his reason for intervening, criticising Sony for bowing to North Korean pressure. That tipped the balance, and got the cash registers ringing.
"Imagine if producers and distributors and others start engaging in self censorship, because they don't want to offend the sensibilities of somebody whose sensibilities probably need to be offended," he said at a December 19 press conference.
With publicity like that the movie would have to be a real dog to fail, and "The Interview" is no dog. It hits its admittedly soft target with ease, time and time again.