Search suspended for missing Turkish sailors in Adriatic
Comments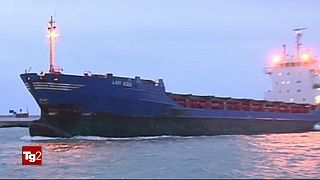 Two Turkish crew members have died and another four are missing after their cargo ship sank in the Adriatic off Italy, following a collision with another vessel.
One body was recovered from the sea; another person died in hospital after being brought ashore.
The search for the four missing in cold, rough seas was suspended for the night when darkness fell.
The coast guard said six crew members were initially rescued and brought to the port of Ravenna.
They include the man who later died.
The Turkish ship Gokbel was leaving port when it collided with the Lady Aziza as it arrived.
Visibility was poor due to fog.
The Gokbel sank; no-one was hurt on board the Belize-flagged vessel which was still seaworthy and was brought to port as part of the investigation.
The drama happened as Italian emergency services were already heavily involved in rescuing passengers from a ferry which caught fire en route from Greece.