Police officers turn backs on New York mayor during Ramos funeral
Comments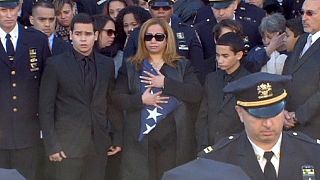 Tens of thousands of police officers from across the US have filled a New York City church and nearby streets for the funeral of their colleague Rafael Ramos.
The 40-year-old was shot dead along with another officer in Brooklyn by a man who said he was avenging the police killings of unarmed black men.
US Vice President Joe Biden, who attended the funeral, said the officer deaths had "touched the soul of an entire nation."
Mayor Bill de Blasio also addressed mourners during the ceremony.
As he spoke, police officers outside the church silently turned their backs on a large screen showing his image.
It followed comments from police union officials, who accused the Mayor of contributing to a climate of mistrust towards officers.
The deaths of Ramos and Wenjian Liu have become a rallying point for police who have faced protests alleging racist practices.