One year on: Schumacher's long road to recovery
Comments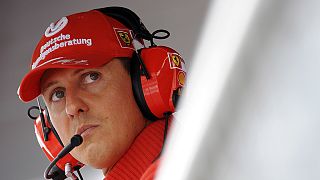 Exactly a year to the day since Michael Schumacher's life-changing skiing accident, the Formula One legend is still facing a "long fight" for recovery, according to his manager.
We need a long time. It's going to be a long time and a hard fight.
The seven-time world champion was skiing in the French resort of Meribel when the accident happened. His manager Sabine Kehm says he fell and hit his head on a rock after helping a fallen family friend.
Schumacher was wearing a helmet at the time of the accident – a detail medical staff in Grenoble said had saved his life.
The 91-time grand prix winner was airlifted to hospital in Moutiers, then taken to the University Hospital of Grenoble, where he was placed into a medically-induced coma.
On June 16 2014, 170 days after the accident, Kehm announced Schumacher was no longer in a coma and had been moved to the University Hospital of Lausanne in Switzerland.
Less than two months later, he was discharged from hospital. Manager Kehm announced that although "progress has been made", there is still a "long and difficult road ahead."
Speaking in December, she said:
"We need a long time. It's going to be a long time and a hard fight", Kehm told Reuters news agency. "He is making progress appropriate to the severity of the situation.
Kehm's statement brings into question recent comments in the French media, alleged to have been made by former F1 driver Philippe Streiff. In an interview with Le Parisien, he is quoted as saying Schumacher "had yet to recover the power of speech" but is "nevertheless starting to recognise those close to him."
According to the printed interview, Strauss added that 46-year-old Schumacher has "very limited movement", but "long term… he could hope one day to walk with crutches."
The French newspaper describes him as an old friend of Schumacher, who gleaned his information on the recovery process from the German driver's wife Corinne and a surgeon acquaintance.
However, Kehm has denied any contact:
"I cannot confirm that. I can only confirm that I do not know where Mr Streiff has his information from because he has no contact with us and he never has."