Malaysia: worst Monsoon floods for years cause havoc in northeast
Comments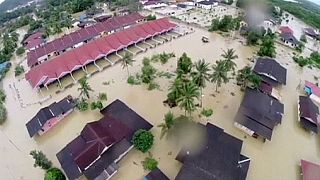 Emergency services are struggling to reach flooded areas in northeastern Malaysia amid the worst deluge in living memory.
At least five people have died – some reports say eight. The region is regularly hit by flooding during the annual monsoon, but this year's rains have been particularly heavy.
The number of people who have fled or been moved from their homes in several northern states has reportedly jumped to 160,000.
The figure surpasses the 100,000 evacuated in floods in 2008.
The Malaysian newspaper the New Straits Times has reported that Negri Sembilan has become the eighth state to be affected.
Roads have become impassable, train services suspended and communications systems badly hit by the storms.
The government has defended its decision not to declare a state of emergency – saying that would only happen if there was a total breakdown in electricity or water supply, or if the number evacuated rose still further.
Prime Minister Najib Razak returned early from holiday in Hawaii to face the crisis. He had been criticised after being pictured playing golf with President Obama.
On Saturday he arrived in the stricken state of Kelantan to lead emergency operations, and announced relief schemes for flood victims.
The previous day he had attended meetings with the National Security Council, the National Disaster Management and Relief Committee, state government and local emergency responders.
More heavy rainfall is forecast in the coming days in the states of Kelantan, Terengganu and Pahang.