Trains run on time despite 23-hour Spanish rail strike
Comments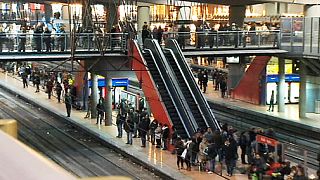 Spanish rail travel has been running mostly on schedule.
That's despite a 23-hour rail strike called by the General Confederation of Labour (CGT) union, and national rail company RENFE cancelling 249 trains as a result.
Friday is a working day in some parts of Spain. Many workers have struggled to return after their Christmas holidays.
"The railway workers have been suffering for many years, due to a planned attack on their labor conditions and employment without having been able to respond as a united front despite several attempt carried out by the GCT," a CGT statement read.
The strike is scheduled to end on Friday (December 26, 2014)at 11 p.m. CET.