Russia's new military doctrine names NATO build-up as main threat
Comments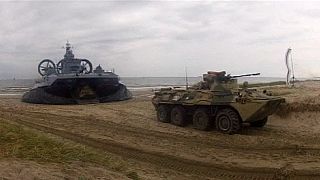 Russian President Vladimir Putin has approved a revised military doctrine that names
NATO's military build-up near Russia's border as its main military threat.
NATO said it had evidence that Moscow orchestrated a separatist rebellion in eastern Ukraine.
Moscow has continuously denied supporting the rebellion and is currently working with Kyiv and the rebels towards a political solution to the crisis.
The doctrine says the deployment of foreign military forces on the territory of Russia's neighbours could be used for "political and military pressure."
A NATO spokesperson said the alliance "poses no threat to Russia or to any nation."
#NATO poses no threat to #Russia or to any nation.

— Oana Lungescu (@NATOpress) December 26, 2014
"They (Russia) have transformed Ukraine from their strategic partner to their strategic enemy. We will not forgive them – neither the annexation of Crimea nor our victims in the east of Ukraine… Ukraine is ready for such challenges," said Sergey Pashinsky, Head of the Department for Security and Defence in Ukraine's Parliament.
"Ukraine is developing its military doctrine and we will confront all threats from the Russian Federation," Pashinsky added.
Russia's new doctrine raises the possibility of using precision conventional weapons as a "strategic deterrent" without spelling out when and how Moscow could resort to them.
The prevention of a nuclear war or any other type of conflict is core to Russia's defence policy, according to the doctrine.