Ukraine: prisoner swap between Kyiv government and rebel groups confirmed
Comments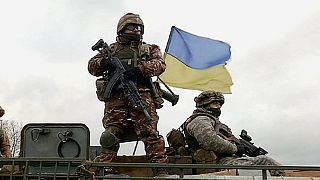 A prisoner exchange between the Kyiv government and rebel groups in the east of Ukraine has been agreed, the Ukrainian Security Services confirmed on Thursday.
One hundred and fifty government soldiers will be swapped for 225 rebels after talks between the two sides in the Belarusian capital Minsk.
Meanwhile the original ceasefire agreed in Minsk in September continues to be broken.
In Debaltseve in Donetsk, a small town on the frontline of the battle, there is a monitoring centre where representatives from the Ukrainian and Russian military, separatist groups and the OSCE all work together to record daily violations.
Nearby, at a position held by the Ukrainian military, a serviceman told euronews that government troops don't fire back even when they are attacked and blamed the rebels for breaking the ceasefire.
Euronews correspondent Angelina Kariakina explained: "If the Minsk agreement is carried out in full, both sides will have to withdraw weaponry 15-20 km from this place inland "
In the town of Debaltseve itself, the area has been heavily damaged by shelling. Buildings and the railways have been destroyed.
Water and electricity are now back on but only around 60% of locals remain, most have fled the conflict.
As the New Year approaches, local people told Euronews the holidays bring no joy and they had no plans to celebrate.