Pope says world needs more tenderness and empathy
Comments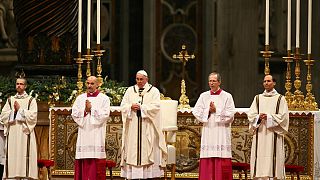 Pope Francis has used his Christmas Eve Mass to say the world needs tenderness in times of conflict.
Thousands gathered at St Peter's Basilica in Rome to hear his message that peace is stronger than "darkness and corruption".
"How much the world needs tenderness today! God's patience, God's closeness, God's tenderness," the pontiff told his followers.
He also called on believers to show more empathy towards family and friends.
Before the Mass, the pope made a call to Christians in an Iraqi refugee camp.
Tens of thousands of them have been persecuted and displaced by ISIL militants.