Coptic Christians in Egypt on alert for attacks
Comments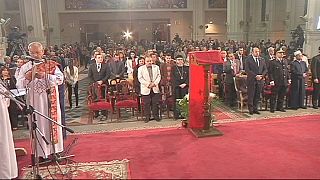 Catholic Copts in Egypt are marking Christmas amid tight security after threats from Islamist extremist groups.
The Christmas Eve Mass at the Coptic Catholic Church in Cairo was packed despite the alert level being raised.
Churches and Christian neighbourhoods have been the targets of several attacks over the past three years that has seen dozens killed.
One man told euronwews: "We ask God to keep the wars which we witnessed recently away from us, while keeping the whole Arab world safe. We are all united, we need to stand together. The last few years have been very hard for all Arab countries"
Another church-goer said: " I hope we all remember the suffering of other countries like Syria and Iraq. We pray for them today, and I wish for peace in our country and for all the world"
Mohammed Shaikhibrahim, our correspondent in Cairo told us:
"Jesus' message of peace and justice, rejecting violence and hatred, is reflected today in the prayers of Christians in the Middle East, hoping to ease some of their pain and of all human suffering."