Bosnians 'protest' march to EU border looking for new jobs
Comments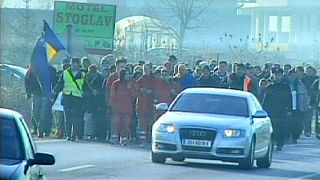 Around 200 workers from Bosnia have been marching towards Croatia. They are all former employees of factories that have closed leaving them without pay from more than a year.
The workers left their city of Tuzla in northern Bosnia on the 77-kilometre journey to the Croatian border.
Croatia is a European Union member state and more prosperous than Bosnia, where unemployment is more than 40 percent.