Pope hits out at Cardinals' 'lust for power'
Comments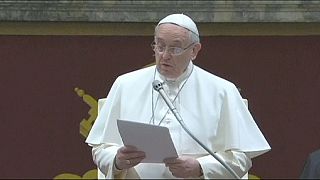 The Pope has accused senior Vatican officials of having a "lust for power".
In his Christmas greeting to those who run the Holy See, Pope Francis said they were "hypocritical" and had "forgotten the Lord".
His speech, describing the church's 15 biggest ailments, got a lukewarm response from Cardinals.
This is not the first time Pope Francis has criticised the ambitions of those who work inside the Vatican.