Heaviest monsoon rain in decades displaces tens of thousands in Malaysia and Indonesia
Comments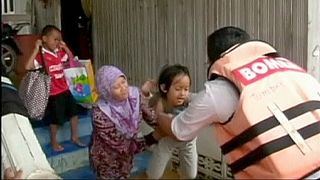 Record-breaking rainfall in Malaysia and Indonesia has forced around 100,000 residents from their homes.
Although people here are used to dealing with the Monsoon rains, the extent of the rainfall – the heaviest in 40 years -has taken the authorities by surprise.
In Malaysia, flooding across six states drove more than 60,000 people to take shelter in evacuation centres.
Meanwhile a rescue operation was underway at a national park in Pahang state where around 100 local and foreign tourists were stranded.
In Indonesia, around 35,00 people were displaced on the islands of Java and Sumatra. The heavy downpour has left more than 7,000 homes submerged since last week.
The floods come as the region marks 10 years since the devastation of the Tsunami which claimed more than 250 thousand lives.