Delta worker smuggled guns onto flights from Atlanta to New York
Comments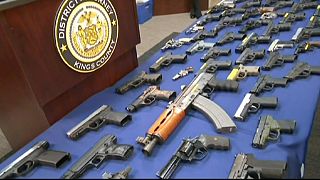 The FBI has revealed details of an alleged gun smuggling ring on board passenger jets which they claim was being run by former employees of Delta Airlines.
Two men have been charged with smuggling firearms onto planes between Atlanta and New York.
Prosecutors say Eugene Harvey and Mark Henry were among five people arrested and were responsible for huge breaches of airport security.
"Between May 2014 and December 2014, Mark Henry literally took about 20 flights with guns on them on commercial airliners," said Kenneth Thompson, Brooklyn District Attorney.
Prosecutors said the group got away with scheme for so long because airport employees are not required to go through screening.
In total more than 150 weapons have been recovered.
Officials say the smuggling took place over a five year period.