Third 'lone wolf' injures ten in Western France
Comments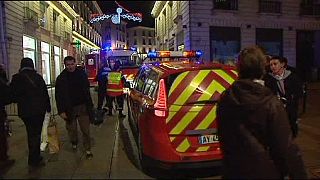 French cities remain on heightened alert following a third "lone wolf' attack, this time in the western city of Nantes.
We are all concerned about this series of tragedies.
Ten people were injured – five seriously – when a man ploughed his van into a crowded Christmas market.
Police say one of the victims is in a critical state.
President Francois Hollande has called an urgent meeting of ministers on Tuesday to discuss the three attacks.
The incident in Nantes followed a similar charge by a man in a vehicle in Dijon on Sunday which left 13 people hurt..
And on Saturday, a man was shot after he stabbed and wounded three policemen in central France.
In the Nantes attack, the driver went on to stab himself several times with a knife.
France's interior ministry says it's too early to determine the man's motives and has called for calm and vigilance.