Peshawar massacre fresh in memory of Pakistanis
Comments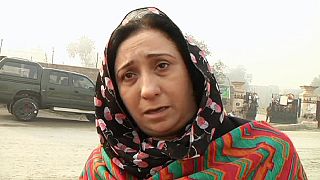 The Pakistani city of Peshawar is still trying to come to terms with the murder of over 140 of its citizens, the majority of them children, at the hands of Taliban militants on December 16 last.
Pakistani soldiers hold guard at the doors of the Army Public School, the scene of the massacre, a reminder that violence is an ever-present threat in this city that lies on the border with Afghanistan.
For the mother of a student who survived, the memory of the attack will stay with her and her children for a long time to come.
"Our kids who have survived have had nightmares since the attack. The things they witnessed keep popping up in their mind. Their pain and wounds are still present despite the number of days that have passed. We had no idea that something like that would happen. Every mother happily sent their kids to school that day," said Shahida Sardar.
The massacre in Peshawar was the deadliest in the history of Pakistan and was condemned across the globe for its cruelty. Since the attack, Islamabad has come under increasing pressure to deal with the militants who carried out the atrocity.
"The pain me and other parents are suffering from losing our loved one is only serving to strengthen our resolve against the Taliban," explained Sharif Gul, the father of a child killed at the school.
Authorities in Pakistan have warned of further attacks.
"We are receiving intelligence from across the country that the militants are getting ready for another savage and inhuman counter attack. All of us need to be on alert," warned Chaudhry Nisar Ali Khan, Pakistan's Interior Minister.
The massacre was claimed by the Tehreek-e-Taliban, a Pakistani Islamist militant group trying to overthrow the government.
According to military observers, bringing those responsible for the Peshawar attack to justice will have little or no impact on the terrorist organisation.