Northern Ireland leaders strike deal to save power-sharing government
Comments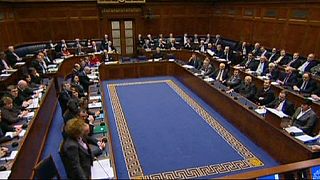 Northern Ireland's Catholic-Protestant power-sharing government lives to fight another day, after a deal was reached on a range of disputes.
The region will be given a 2.5 billion Euro aid package and be exempt from the same level of welfare cuts as the rest of the UK.
There will also be new structures to deal with the legacy of unsolved killings during the years of conflict.
First Minister of Northern Ireland, Peter Robinson, said:"The document deals with a restructuring and reform programme that we would undertake here in Northern Ireland. That restructuring programme would be the most ambitious programme that any government or executive has ever set about in Northern Ireland''.
The 75 section agreement was brokered by London and Dublin and took 11 weeks of negotiations.
If it had failed, the Assemble would have been dissolved and Britain would have resumed responsibility for running the government.