Italy trains delayed after 'arson attack' along Milan-Bologna line
Comments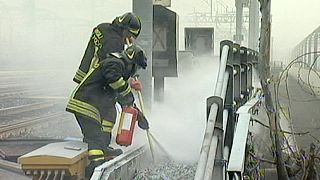 Italian train services have suffered severe disruptions following an arson attack along the Milan-Bologna line.
Though no group has claimed responsibility, Transport Minister Maurizio Lupi has pointed the finger at a group opposed to the construction of the TAV high-speed link between Lyon and Turin, saying it was a new act of terrorism.
The attack occurred near Bologna's Santa Viola Station, conjuring up memories of the bombing at Bologna's central station in 1980 in which 85 people died and 200 were injured.
"When you speak about a terrorist attack, especially in Bologna, it's a bit scary," said one passenger at the Santa Viola station.
It comes after a similar attack along the Rome-Florence high speed line and another incident involving No-TAV activists who blocked a motorway over the sentencing of fellow protesters to prison last week.