Romania commemorates 1989 revolution
Comments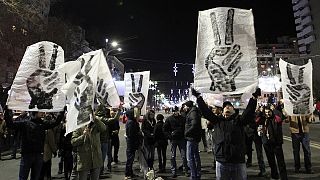 More than 200 people gathered in Bucharest's University Square on Sunday to commemorate the 25th anniversary of the Romanian revolution, which deposed former communist leader Nicolae Ceausescu.
People lit candles to commemorate the victims of the revolution and chanted slogans, such as 'Free Romania.'
Bucharest resident Viorica said citizens have been disappointed by the lack of progress since the revolution.
"This is Romania which has disappointed us. How much hopes we had regarding democracy, and what we have now is a false democracy. With the new president (Klaus Iohannis) we have hopes".
On December 21, 1989, President Ceausescu's security forces opened fire on protesters in the city, killing dozens of people.
The next day, he was overthrown in a violent revolution and fled the city.
Captured in the city of Targoviste later that day, Ceausescu and his wife Elena were convicted of genocide and abuse of power and executed by firing squad on December 25, 1989.