Qatar airlines take delivery of first Airbus A350
Comments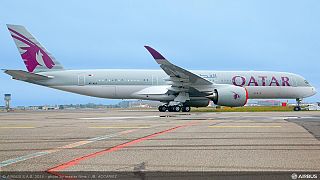 Qatar's Airbus A350 is the first to be delivered and the latest aircraft the industry has to offer in noise reduction, emissions and maintenance. It also caused a strategic shift in Airbus.
The call for both cabin comfort and better economics from airlines like Qatar caused a rethink at Airbus and the first of seven hundred and seventy eight orders to date was delivered after almost a decade of design and production.
It represents another milestone in the battle for the wide-body market with Boeing and is the company's 15 billion dollar answer to the 787 – the Dreamliner. Next month the two jets will start competing in the skies.
Analysts believe with the arrival of the carbon-plastic A350 the two companies are now well matched.
Boeing's first 787 was delivered three years ago albeit after four years of delays. It has sold more than 1,000 of the jets with more than 200 already in the hands of airline companies.
Joanna Gill, euronews: "I'm joined by Qatar Airways CEO Akbar Al Baker from Toulouse. Now this has been a long time coming, 18 months behind schedule has that been a worry? "
Akbar Al Baker, Qatar Airways CEO: "No not all. It has not been a worry we were quite fine with the time that was given to us for the first delivery and Airbus has met its commitment to deliver the aircraft to us in the last quarter of 2014."
euronews "You've said that with Qatar airways regional and long-haul expansion "there was a requirement for an aircraft that covers both customer comfort and is technologically forward-thinking". How did Airbus win you over?"
Akbar Al Baker, Qatar Airways CEO: "We were the airline that placed the first order over seven years ago and on the back of the 80 aircraft order from Qatar airways this progamme was launched."
euronews "What was it about Airbus that gave it the edge over Boeing?"
Akbar Al Baker, Qatar Airways CEO: "Keep in mind that this aircraft was launched on the back of the 787 launch and it was the Airbus vision to build an aeroplane that would have been technologically more superior to the 787."
euronews "How will the new aircraft answer to customer needs?"
Akbar Al Baker, Qatar Airways CEO:"You know the customer always wants a seat, they want a nice meal and they want to arrive from A to B on time. The customers don't get into the details but what is important for customers in Qatar airways is that they can get a product that is head and shoulders above its competition."
euronews "And that is head and shoulders above Boeing in that case?"
Akbar Al Baker, Qatar Airways CEO: "Keep in mind this is being delivered four years after the first delivery of the first 787 so they have incorporated technological advances that have happened in the last four years into this aircraft."
euronews: "Airbus claims it offers 25% fuel efficiency – does this make it a cost-effective purchase?"
Akbar Al Baker, Qatar Airways CEO: "Absolutely keeping in mind the highest cost factor of operating an airline is the fuel so the more fuel efficient an aeroplane becomes the better it is for the airlines and its profitability."
euronews: "Many airline profit forecasts have gone up recently because of the fall in the price of oil. How does that affect you?"
Akbar Al Baker, Qatar Airways CEO: "Like all the airlines we will be making more profit than we have been making in the past with lower fuel prices."