"Ida" adds EU parliament's LUX prize to its European Film Awards triumph
Comments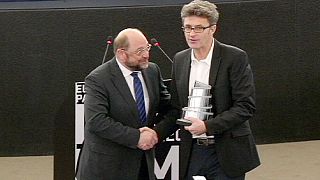 The European Parliament has awarded its annual Lux prize for best European film to "Ida", which at the weekend also won five prizes including Best Film at the European Film Awards.
The film will be Poland's entry at the upcoming Golden Globes, where it is highly fancied to win again.
The prize is intended to celebrate the diversity and the social relevance of cinema in Europe, and as such looks beyond any commercial possibilities.
"I'm very honoured to be here to receive this award for "Ida". It comes 3 days after our film also won the main prize at the European Film Academy Awards in Riga which makes it, I suppose, officially the most European film this year," said director Pawel Pawlikowski.
"Ida" tells the story of a beautiful 18-year-old orphan who is preparing to take her vows as a nun when she discovers her true identity. The director dedicated his win to his fellow professionals.
"To all film makers who are doing their own thing and who are making films for the sake of art and to say something rather than to make money," said Pawlikowski
The film's melancholic black-and-white photography is being widely seen as a way to show the past of the continent coming to terms with its present, and maybe its future.