'Super-Bacteria' found in Rio's Olympic waters
Comments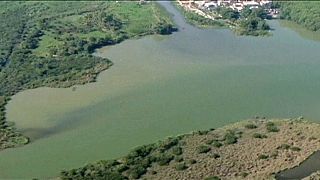 Avoiding capsizing or just falling into the water is one objective for sailors and windsurfers during major competitions.
But for the 2016 Rio Olympics the water sports competitors will have added incentive to avoid an unintentional dip.
Scientists at the Rio de Janeiro research institute have discovered a drug-resistant bacteria in samples taken from sea waters where Olympians will compete.
This biologist said: "That the researchers have found a "super-bacteria" at Flamengo Beach isn't very surprising seeing as the city of Rio de Janeiro, a 21st century metropolis, still has a sanitary reality from the 18th Century. That is, just about the entire hydrographic basin [watershed] of the Rio de Janeiro metropolitan area was transformed into a garbage and sewage canal. And everything is thrown into it."
The bacteria discovered in the waters is normally found in hospital waste and can pose serious health risks including urinary, gastrointestinal and pulmonary infections.
When selected as Olympic hosts the city promised to clean up the polluted waters but that appears to be a load of rubbish as raw sewage still regularly flows into Rio's waters.