President Maduro slams US sanctions on Venezuelan officials
Comments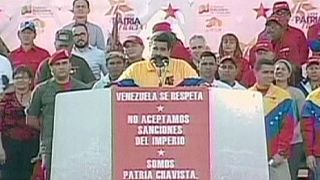 A sea of red shirts flowed through Caracas on Monday.
Thousands took to the streets in a show of strength for their president Nicolas Maduro who slammed US sanctions imposed over the alleged repression of opposition protests.
The US president plans to sign the sanctions denying visas and freezing the assets of Venezuelan officials accused of repressing anti-Maduro protests earlier this year.
Channeling the rhetoric of his predecessor Hugo Chavez, he said:
"I think we need to gather signatures and send them to them with a photo of a U.S. visa so they can shove their US visas where they should be shoved. Arrogant Yankee imperialists."
He also blasted ex-Spanish prime minister Jose Maria Aznar as a 'murderer', citing Spain's support under his leadership for the US-led invasion of Iraq in 2003.
Nicolas Maduro replaced the late leader Hugo Chavez in 2013. His popularity has waned amid a deep recession. It appears the threat of sanctions might have thrown him a lifeline.