Irish youngster honoured in Greece
Comments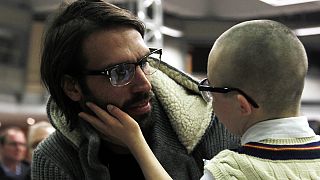 A 10-year old boy from County Armagh in Northern Ireland has been honoured by the Greek Sports Journalists' Association after striking up a friendship with Greece International Georgios Samaras.
Jay Beatty – who has Down's syndrome – was thrown into the limelight earlier this year when then Celtic player Samaras celebrated with him after winning the Scottish League.
Jay then became an internet sensation after being filmed cheering on his Greek hero during the World Cup in Brazil.
When asked why he liked Samaras Jay said at the star-studded ceremony in Athens: ''I love mate Sami. I love him because he has long hair and a long beard. I love him!''
Samaras, whose grandfather died at the weekend, said: ''Jay is the reason I came here tonight. Because recently in my life things are not going well, but at least I see the smile of that child and I find the strength and the power to go on''.
The friendship began with a lap of honour together after Celtic won last season's Scottish title and continues with an award for what the association says is a perfect 'message of humanity and sensitivity.'
Euronews' Giannis Giaginis was at the ceremony and said: ''With this trip to Athens, ''little'' Jay received a special gift for his upcoming 11th birthday. Greeks love him because of his friendship with Samaras. But at the same time it was also the economically-struggling Greek nation which was gifted with a special message of optimism through this brave young fighter for life.''