Rome announces bid for 2024 Summer Olympics
Comments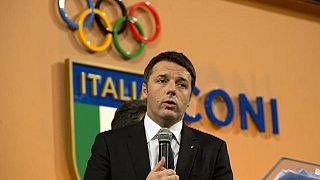 [UPDATE-1] Rome officially entered the race for the 2024 Olympics after Italian Premier Matteo Renzi presented the bid as a boost for the country amid ongoing corruption scandals and a stagnant economy.
Italy is the second country after Germany to launch their candidacy, taking advantage of the newly-implemented Agenda 2020 reforms aimed at making the cost of hosting the Olympics cheaper than in previous years.
"The Italian government is ready to do its part for a project that isn't based on great infrastructures or big dreams but rather great people," Renzi said at the Italian Olympic Committee's headquarters.
"We will be at the vanguard for all the spending controls," he added. "Our country too often seems hesitant – it's unacceptable not to try."
Italy last hosted the Olympics in 1960 and although planned to host the 2020 Summer Games, had the bid cancelled by former Premier Mario Monti due to economic pressures.
But with the country heading for its third straight year in recession, questions have been raised whether hosting the largest multi-sport event is a priority while ordinary citizens were being asked to make sacrifices.
It is understood Rome is considering a budget of six billion euros, two billion of which would be covered by the International Olympic Committee.
"I don't want to get into details but that's a fairly realistic number,'' CONI president Giovanni Malago said. '"My dream is to have a bid supported with private money."
In an attempt to reduce costs, the Rome bid is expected to include many venues used for the 1960 Olympics, most notably the Foro Italico complex, which contains an athletics stadium, tennis and aquatics facilities.
Rome may also host some events, such as the preliminaries of the basketball and volleyball competitions, outside the capital, in line with the Agenda 2020 reforms.
Alongside Rome and Hamburg, cities from France, Hungary, Azerbaijan and North America are also expected to join the race for the 2024 Games.
Bids for the 2024 Olympics must be submitted to the International Olympic Committee by September 15, with the host city decided at a congress in 2017.