Tight security as millions of Shiite Muslim pilgrims stream into Kerbala, Iraq
Comments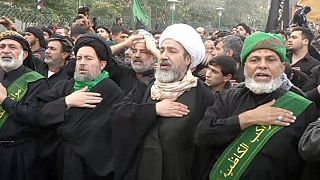 Millions of Shiite Muslim pilgrims from across Iraq, Iran and neighbouring countries have streamed into Iraq's holy city of Kerbala over the past week to mark Arbaeen.
The event is a 40-day mourning period commemorating the seventh Century death of the Prophet Muhammad's grandson, the Shiite saint Imam Hussein.
This year's ceremonies come six months after the Sunni militant group calling itself Islamic State (ISIL) swept through much of northern Iraq.
The pilgrims consider the gathering an act of defiance in the face of ISIL.
''We think that the successes of this pilgrimage is one of a string of victories by our armed forces and volunteers against ISIL,'' said Akeel al-Turaihi, Governor of Karbala province.
Officials have said they expect the Sunni militants to target Arbaeen, which has attracted a record number of foreign visitors after Iraqi authorities waived visa fees this year.
Some 40,000 police and soldiers have been deployed in the city for the event.