Brunel advantage in Volvo Ocean Race
Comments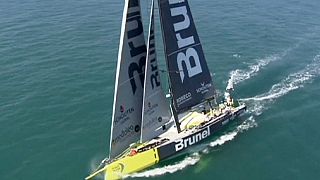 Team Brunel came home first in the second leg of the Volvo Ocean Race from Cape Town in South Africa to the United Arab Emirates.
The winning margin was 16 minutes with Brunel ahead of the Chinese boat Dongfeng Race Team which also came home second in the opening leg of the race from Spain to Cape Town.
Dongfeng had taken the lead after leaving South Africa but in a key moment with the yachts racing in similar winds and only a few metres apart Brunel snatched the lead, skippered by 51-year-old Bouwe Bekking.
The teams are equal on points with the Dutch crew first place by nature of their win.
"It's always good to be in first place," said Bekking, "especially after this leg because it has been so close."