Russian aid convoy arrives in Donbass as separatists' truce with Kyiv wobbles, but holds
Comments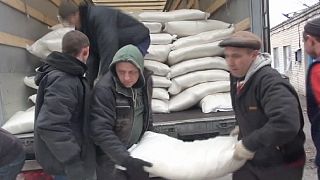 Ukraine's truce with pro-Russians in its east is in its third day, and despite it beginning well with no fatalities for the first time in months, there were two deaths yesterday as Ukrainian positions came under attack.
In the meantime 130 Russian lorries arrived in Luhansk and Donetsk loaded with what Moscow says is humanitarian aid.
"A big thank you to our brother in Russia for helping us. Because Ukraine has discarded us completely," said one man busy helping unload the lorries.
Soldiers on the Ukrainian front line welcome the respite, even if the truce is not as solid as it seems, and appears to be fraying by the hour.
"The terrorists don't have the patience to keep the ceasefire. In the last 24 hours they attacked our positions six times with sniper rifles, and we were told two civilians were injured," said anti-terrorist operation spokesman Oleksiy Dmytrashkivskiy.
In the Ukrainian parliament the Defence Minister said the 2015 military budget would be doubled, while the Finance Minister dismissed reports Ukraine was close to default, saying that crisis was nowhere near for the moment, contradicting his own prime minister, who is appealing for more help from abroad.