Huge waves claw homes into sea as rain, winds, and snow batter America's Pacific coast
Comments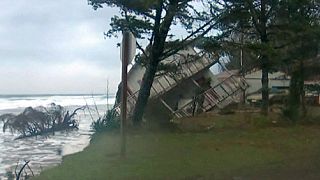 The song goes it never rains in Southern California, but the northern part of the state and America's Pacific south-west is being battered with high winds and torrential rains.
The storm has left a trail of destruction in its wake.
"This is incredible…I mean this was wind driven waves over the top of my deck, it ripped everything out", said one man surveying his wrecked home.
"You know when we bought the place there's a page that says erosion, where you sign your name. Erosion? That doesn't concern us, we thought," said another, looking at the ruins of his home all around him.
Parts of San Francisco were flooded, power lines were brought down, and schools were closed, a rare event. San Francisco airport grounded all flights, and ferry services were suspended. Yet despite the severity of the weather, only one death has been reported, when a man was hit by a falling tree. Southern California will not be spared, as the storm swings that way.
"I'm just going to walk around and see if anyone needs help clearing any water out or squeegee their floors and try to save any damage. At this point I'm already wet. I might as well help some neighbours," said one civic-minded man.
As this is California, for some it is 'surf's up', but there is worse on the way; weather already ravaging Washington State and Oregon.
California's Sierra Nevada is already snowbound, and mudslide warnings have been issued in places.
"The storm was just blowing, one minute it was raining, next minute it's snowing…about three inches an hour up here now," said one truck driver.
California is in the middle of its worst-ever drought, but experts say even this downpour will do little to alleviate it.