Israelis and Palestinians disagree over autopsy result after minister's death
Comments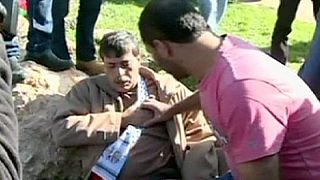 The funeral has taken place in the West Bank for the Palestinian minister Ziad Abu Ein, who died after a confrontation with Israeli troops on Wednesday.
The ceremony with full military honours in Ramallah came amid three days of mourning.
The Palestinian Authority says it holds Israel "fully responsible" for the minister's death.
Palestinian president Mahmoud Abbas called the incident "barbaric" and said he and other top leaders would consider a response after the funeral.
Israelis and Palestinians have issued conflicting accounts over the result of an autopsy, reportedly led by Palestinian, Israeli and Jordanian pathologists.
A top Palestinian official said the minister died from being struck, inhaling tear gas and a delay in receiving medical attention.
An Israeli medical source said a heart attack brought on by stress and a pre-existing heart condition was the cause.
Israel has said it regrets the minister's death. The Israeli Defence Force announced a joint investigation by an Israeli pathologist and a delegation from Jordan – and proposed a joint investigation team with the Palestinians to review the incident.
The minister was among about 100 activists protesting against a Jewish settlement by planting olive trees in the village of Turmusiya north of Ramallah. At one stage Israeli soldiers and police fired tear gas and sound grenades.
During a scuffle a policeman pushed Abu Ein and grabbed his neck. Some witnesses say he was also struck in the chest.
Minutes later the 55-year-old began to look faint before becoming visibly unwell. He died on his way to hospital.
Israel has reinforced troops in the West Bank following the minister's death.