Clashes following funeral of Palestinian minister who died after West Bank protest
Comments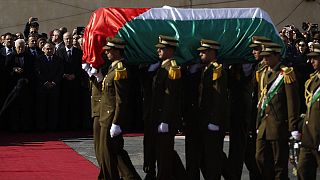 Palestinian youths have clashed with Israeli soldiers after the funeral of a Palestinian minister who died following a confrontation with an Israeli policeman.
The death is a result of an attack; it was not a natural accident
The clashes took place in Ramallah in the West Bank.
Just before thousands of mourners turned out for a state funeral for the minister, Ziad Abu Ein, who was pushed and grabbed by the neck by a policeman during a protest in the West Bank.
Teargas and stun grenades were fired during the demonstration against a Jewish settlement.
The Director of the Palestinian Forensic Institute, Saber al-Aloul, attended the autopsy.
"The death is a result of - and I want to emphasise - an attack, it was an attack, not a natural accident," he told reporters. 
But there are conflicting views on the autopsy that was carried out jointly by Palestinians, Jordanians and Israelis.
Chen Kugel from the Israeli National Institute of Forensic Medicine also spoke to reporters.
"There is no evidence that he was beaten in the chest by a gun or any  other instrument," he said.
"The signs in the chest are due to resuscitation."
The experts agree the minister died of a coronary blockage caused by internal bleeding.
But while the Palestinian side say that was caused by an injury, the Israelis say it was probably brought on by stress and a pre-existing heart condition.