Nobel Peace Prize presented to children's champions Malala and Satyarthi
Comments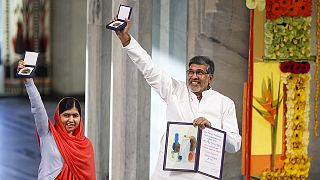 Two champions of children's rights have been honoured with the Nobel Peace Prize at a ceremony in Oslo.
The award was shared between Indian activist Kailash Satyarthi, 60, and Pakistani teenager Malala Yousafzai, at 17 the youngest person ever to receive it.
She said she would dedicate her prize money to the Malala Foundation – starting by building schools in her home country of Pakistan where she survived an attack by the Taliban on her school bus two years ago.
Satyarthi, credited with saving around 80,000 children from slave labour sometimes in violent confrontations, asked audience members including the Norwegian royal family to put their hands on their hearts and listen to the child inside.