NATO joins search for 'Russian submarine' off Scottish coast
Comments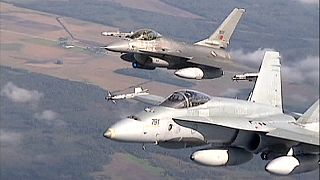 The Dutch air force has released video of the moment it is said to have intercepted Russian military aircraft over the Baltic sea on Monday.
More than 30 types of Russian military aircraft including bombers, fighters and transport were said to be involved in the intercept carried out by the Dutch air force assigned to NATO.
The organisation said that Russian military activity had been considerable in the last few months.
NATO also sent patrol planes to help Britain search the waters off the west coast of Scotland after a submarine's periscope was spotted.
The sighting occurred in waters where Royal Navy submarines normally surface when leaving Faslane, home to Britain's nuclear weapon Trident.
The hunt comes just one month after a similar operation in Swedish waters which reawakned memories of the final years of the Cold War.