Greek government announces snap presidential vote
Comments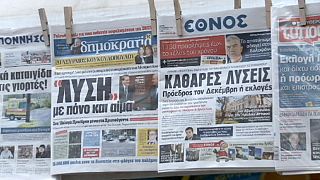 In a gamble to end nationwide political uncertainty, the ruling coalition party in Greece has announced a snap presidential election will be held on December 17.
The vote to be held in parliament to select the next president comes two months ahead of schedule.
Prime Minister Antonis Samaras will be hoping to rally enough support for his candidate Stavros Dimas. He needs 180 of 300 votes to make the mark, meaning he'll need additional backing from other parties.
If he fails to garner enough support, a general election will be called in early 2015.
Political analyst Dimitris Tsiodras told euronews:
"Prime Minister Samaras is holding the presidential election now, so that – in the event of a general election – he can say to the voters: either vote for me so that I can finalise agreements with the country's lenders; or vote for Syriza and let them say whether they will choose to negotiate or clash with the European Union."
Opinion polls show the leftist Syriza Party would currently win a snap election.
Our correspondent in Athens outlined the predicament faced by Greek politicians:
"The Greek Prime Minister's decision effectively throws down the gauntlet to the independent MPs and those representing the smaller parties in the Greek parliament. It presents them with a dilemma: side with the pro-bailout coalition, or lose their seats in the event of an early general election and the potential sweeping victory of the left-wing Syriza Party."
It seems, then, that the government feel they have a better chance of securing support for their candidate now, while bailout negotiations are ongoing.