Flight MH17 wreckage parts arrive in Netherlands from Ukraine
Comments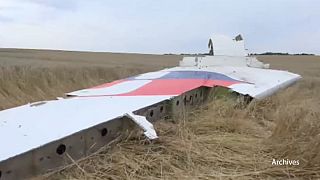 The first parts of the wreckage from the Malaysian airliner downed over eastern Ukraine in July have arrived for examination in the Netherlands, where most of the victims came from.
Relatives of the dead passengers and crew were among those outside the airbase.
Dutch experts hope to rebuild the plane to try to establish what caused it to crash on its way from Amsterdam to Kuala Lumpur.
The US and its Western allies have accused pro-Russian rebels of hitting the jet with a surface-to-air missile.
Today Ukraine's president again pointed the finger at Moscow.
"All of us forget the case of the MH17, where 300 innocent victims were hit by terrorists – which was equipped by Russia, give the weapons by Russia, trained by Russia, and most probably they have their officers from Russia – and hit the passenger plane," Petro Poroshenko said, during a visit to Singapore.
Moscow denies all the allegations.
It has blamed Ukraine, saying a Ukrainian military plane had flown close to the airliner shortly before it came down – an accusation rejected in turn by Kyiv.
An early Dutch report said the plane broke up in mid-air after being hit by high-speed objects.
German intelligence services have also been reported to believe that pro-Russian rebels were responsible.
Washington believes separatists probably mistook the airliner for another plane.