India: Uber online taxi-booking service is banned in Delhi as driver is accused of rape
Comments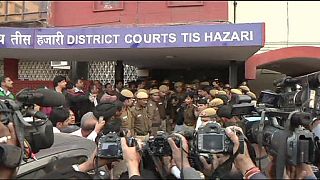 There have been angry scenes outside a court in Delhi as crowds tried to attack a taxi driver accused of rape by a female passenger in a case that has seen the international online cab-booking service Uber banned from operating in the Indian capital.
It is said to have employed the man even though he had been arrested on sex crime allegations three years ago – and subsequently cleared.
The opposition Congress Party claims that Indian Prime Minister Narendra Modi is not doing enough to protect women.
Female activists also cried their anger at the latest case that comes two years after the fatal gang rape of another young woman on a bus in Delhi.
As the suspect was remanded in custody for three days, Uber's chief executive
expressed outrage at the reported rape.
"What happened over the weekend in New Delhi is horrific," Uber CEO Travis Kalanick
said in a statement.
Some women are living in fear.
"There is lot of harassment going in the metro, in buses, public transport. You know, even if you are walking on the road, you are not safe anywhere," said administrator Disha Rajput, speaking in the capital.
Even after new laws imposing stricter penalties and establishing fast-track courts, India is the fourth-most dangerous place for a woman to take public transport, according to a recent poll. It was ranked second-worst on safety at night and for verbal harassment.