Handover ceremony marks end of US and NATO combat mission in Afghanistan
Comments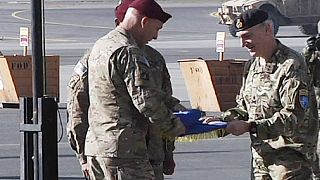 A flag-lowering ceremony on Monday in Kabul was a key milestone for Afghanistan as the US and NATO marked the end of their combat role in a country still gripped by insurgent violence.
The NATO-led mission formally comes to a close in two weeks time with a sharp reduction in Western forces. Remaining troops will train and support the Afghan police and army whose job it will be to tackle the Taliban threat.
In the wake of the Twin Towers attacks on September 11 2001, foreign forces moved into Afghanistan to topple the militant group. Since then nearly 3,500 overseas soldiers have died.
As international troops take a backseat, their Afghan counterparts and the Afghan people are bearing the brunt of the ongoing violence.
At least four civilians and a policeman were killed on Monday when Taliban fighters backed by a suicide bomber attacked a police headquarters in the southern province of Kandahar.