Van Gogh paintings have lost their original colours
Comments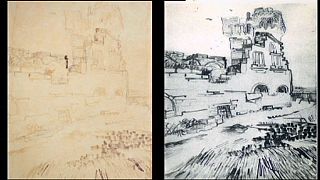 To many people, Van Gogh means light blue and soft yellow.
But now scientists say he used different colours. The original colours have aged.
The ink of his sketches has even dissolved.
Scientists want to find the colours Van Gogh used originally.
Ella Hendriks, an art restorer working at a restoration centre in Amsterdam, studies and restores Van Gogh's sketches and paintings.
For a few months, she has been working on the painting "Field with Irises near Arles." She knows every millimetre of it.
"Using microscope techniques we have determined which red pigments have vanished from this painting that caused the colour changes," explained Ella. Here, the coccinelle is well-preserved in the deep layers of the paint. It is the same colour that has vanished from the colour of the iris.
ICT expert Eric Postma said: "We intend to go back in time, to see what it originally looked like and on the other hand to look into what effect our work will have in the future: the long-term effect of removing the varnish or other treatments."
The centre wants to know how Van Gogh's work will age, something that's important if we still want to enjoy his art 100 years from now.