India Uber taxi driver arrested after rape allegation
Comments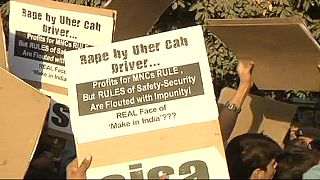 Students in Delhi angry about an increase in sexual violence against women have clashed with police outside their headquarters.
Meanwhile a taxi driver suspected of raping a female passenger has been arrested. She had booked a ride with him reportedly through the Uber smartphone app.
Indian police said it would take legal action against the US-based online service for failing to run background checks on the driver who reportedly dropped the woman home after attacking her and warned her not to inform the authorities.
She managed to note down the driver's number and take a photograph of his car, police said.
Uber said in a statement that it is cooperating with police following the allegation.
"There's a rape in Delhi again now. And its been like how many years," said protester Purva Sharma, refering to the incidents of rape in Dehli. "I am doing this because I think this is my social responsibility, to stand for something that I am against."
"I am here to protest against the irregularity and the failure of the state machinery which refuses to acknowledge that rapes happen because of their failure, who refuse to, you know, carry out proper provisions regarding all the things that are happening," said Urvashi Joshi, another female protester.
Delhi recorded the highest number of rapes in India in 2013, according to the latest National Crime Records Bureau data.
Police attribute the rise in reports to more women coming forward due to greater public awareness after the high-profile gang rape of a student on a bus in Delhi in December 2012.
The UN has called India the most dangerous place on earth for a girl.